Adopting a BTTR Beagle
We are a small 100% Volunteer run rescue located in Chesapeake, VA. We focus on small scale but quality adoptions. We generally only have 1 or 2 dogs at a time which allows our volunteers to get to know each dog. Our goal is to find the perfect match for each family. We offer a trial period to all of our adoptions. To get started check out our adoption process and adoptable dogs below.
Why Adopt From BTTR ?
BTTR tries to match each dog with its perfect family. Here are just a few reasons to adopt a dog from BTTR 
We will be honest about the dog's needs and any behavioral or medical issues that we know of. 

BTTR offers a trial period to all adoptions and a full refund of the adoption fee if the dog is returned during the trial period. 

BTTR offers training tips for the dog's lifetime. We can try and help you work through any issues and if it is beyond our abilities  we can help you find a trainer. 

If you are unable to keep your BTTR beagle for any reason at any time we will take the dog back and help it find a new home. You never have to worry about surrendering to a shelter. 

Pawsnickety Pets, a holistic pet supply boutique located in the Ghent Neighborhood of Norfolk, VA offers adoption perks for dogs adopted from BTTR. Pawsnickety offers an array of all-natural, human-grade food & treats. 

Bring your BTTR adoption contract to the store to receive a FREE Pawdoption Care Kit (full-sized items!) complete with food, treats and supplements. Learn more at Pawsnickety Pets.

If you are ever unable to provide your BTTR dog with vaccines, food, medicine, or heartworm prevention BTTR will provide them for free or a reduced fee for families in need through our Community Good Deed Program. 

BTTR beagles get discounts and free services at the Family Dog Club ! Since most BTTR beagles have spent time at Family Dog Club and do well there you can leave them for boarding or daycare knowing they will be loved and cared for at a place they are familiar with. We also love seeing our dogs again so its a bonus for us too. To learn more about Family Dog Club or to schedule daycare/boarding/classes click here

 1 Day of FREE Daycare A Month*

* Days do not accrue (you cannot take a week of daycare after 7 months)

Discounted Rates on Overnight Boarding (less than $20 per dog per night)

1 FREE 5 Week Basic Agility Class
Adopter Requirements/Adoption Policies
Adoption Area
 BTTR's adopts out dogs in Hampton Roads, VA and North Eastern NC around 1.5 hours driving distance (around 70 miles) from Chesapeake, VA 23322 See map below. Counties in green are within 1 hour of BTTR, counties in blue are within 1.5 hours of BTTR, 

parts of the counties in

yellow

may be outside of BTTRs adoption area. 

Puppies under 6 months, heartworm positive dogs, unaltered dogs, and special needs dogs may require additional trips to BTTR for vaccines, surgery, or medications.

Depending on the individual dog BTTR may reduce the adoption area to within 1 hour if the dog requires additional care through BTTR, this may includes puppies under 6 months, heartworm positive dogs, and animals that have not yet been spayed/neutered

BTTR is generally unable to do long distance adoptions, we can email you a list of other rescues and resources to help find a beagle in your area.

BTTR does not offer same day adoptions. All adoptions require at least 2 trips to our facility in the hickory area of Chesapeake (one to meet and one to pick up).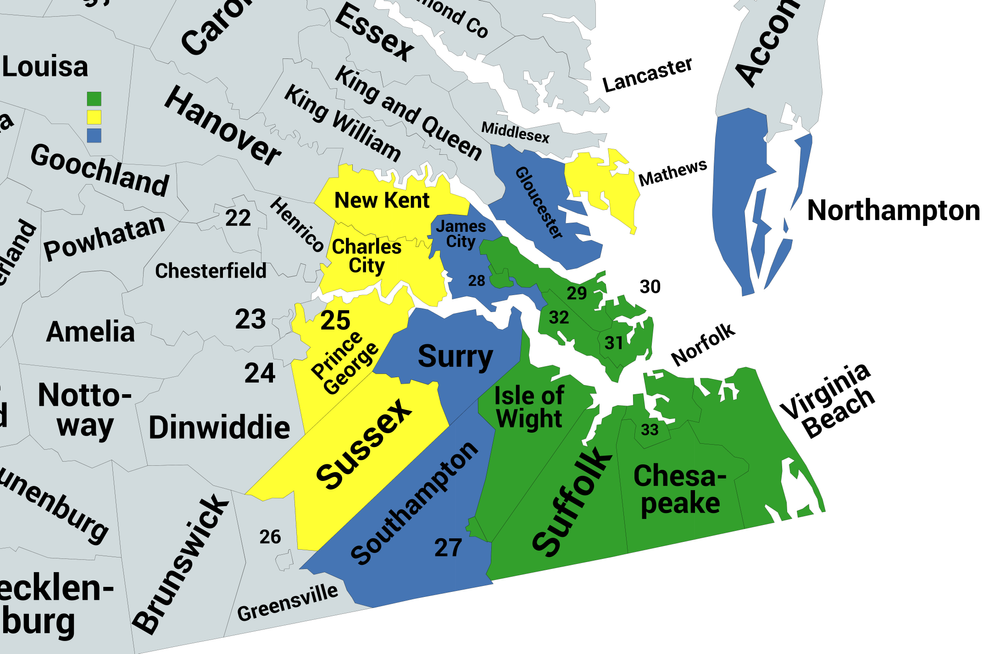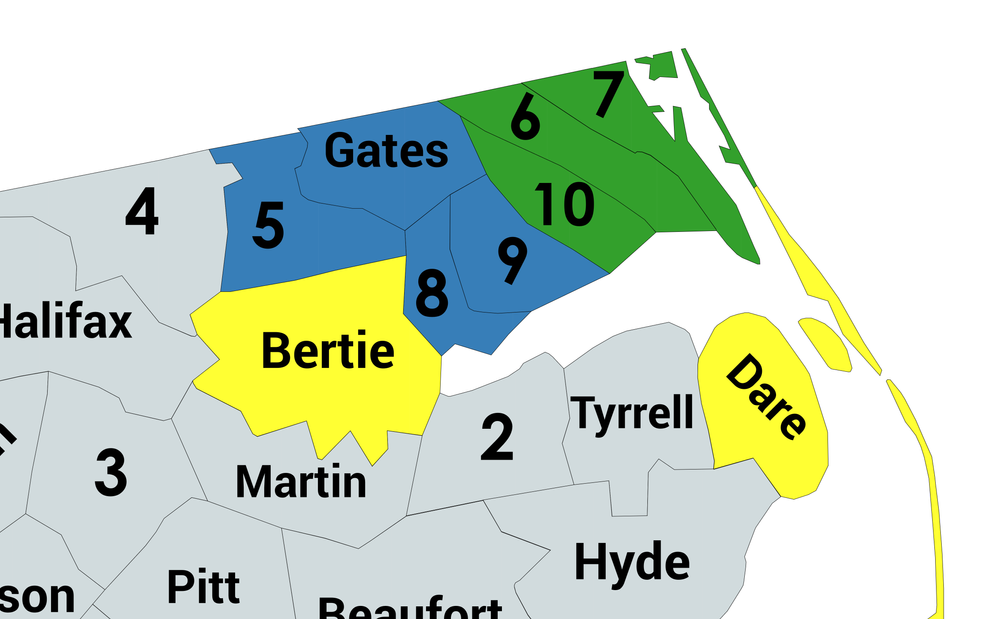 Adoption Requirements
Fenced in yards (Puppies under 9m: required, Adult dogs: depends on the individual Dog, generally required)
Beagles do best in a home with a fenced in yard and usually do not make good apartment pets. Beagles and other scent hounds enjoy smelling and following scents and are not a breed that can be allowed to run off leash.

BTTR requires a fenced in yard for all puppy (under 9 months) and most adult dog adoptions. Requirements for fence height, material, yard size, etc will vary depending on the dogs personality, age, and needs. This information should be listed in each dogs bio. Contact us if you want to know if a specific dog is okay without a fence. We try to list in the dogs bio if that particular dog would be a good fit for an apartment or townhome. All dogs must be kept on a leash when not in a fenced in area.

To qualify as a fenced in yard the fencing must be at least 4 ft tall, the yard cannot be all concrete, full of hazards, and be large enough the dog can run around. Balconies, decks, dog pens, and porches do not qualify as fenced in yards.

To ensure your fencing is secure enough for the chosen dog Adopters must be willing to allow a BTTR representative to visit their home and check their fencing. The representative will show you any problem area and make suggestions for securing them prior to bringing home the new dog.

Underground Electric (invisible) fences do not qualify as a fenced in yard. Invisible fences do not prevent other animals or people from entering your yard and harming your pet. Many dogs also escape when the collars batteries die, the collar is forgotten, or will run through the fence despite being shocked to chase an animal. Electric fences in addition to a solid fence are on a case by case basis. 

BTTR does not support tethering or chaining dogs. Virginia and North Carolina have strict laws regarding tethering dogs designed to keep pets and people safe. Dogs have been known to break tethers and be hit by cars, strangle themselves, or be killed by other animals while unable to escape. BTTR will not adopt out dogs to home that intendeds to chain or tether the dog unattended for any length of time.  
Family Members / Children /Current Pets
 BTTR evaluates each dog and tries to match them with the perfect home. Some dogs may have special requirements regarding children, other dogs, other pets, and time alone during the day. Each dog's bio should have this information in it and a BTTR representative will talk with you more about each dog's needs. 

 All adults in the household must agree to the selection of the chosen beagle: including parents, relatives, roommates, etc. BTTR strongly recommends that all family members meet the dog before adopting the dog. BTTR will not adopt out dogs as gifts, or as a surprise.

BTTR generally only adopts out puppies (8 months and younger) to families without children under the age of 4 years old because puppies tend to nip, scratch, chew, have accidents, and jump up. Children under 4 are too young to be able to participate in training the new puppy.  Puppies will also need a home where someone can come and let the puppy out serval times during the day. 

Adopter's current animals must have required heath care depending on the animal's species, breed, and age. Dogs must be up-to-date on vaccines (rabies/parvo/distemper), spayed/neutered (if over 6 months), and on heartworm prevention. Cats must be up-to-date on (rabies/FVRCP), and spayed/neutered (if over 4 months).  BTTR will contact your veterinarian to verify your pet's health record. 

Dogs, especially puppies under 6 months, which are not fully vaccinated are susceptible to deadly viruses such as Parvo , Rabies, and Distemper. BTTR provides vaccines against these diseases but it can take up to 4 vaccines for the pet to be fully protected. Adopters must take extra precautions with puppies until they have received their final set of shots by avoiding common areas in apartment/housing communities, dog parks, pet stores etc. Areas where lots of puppies or un-vacciated/not fully vaccinated dogs go to the bathroom are especially high risk.  BTTR may choose to not allow you to adopt if you have had a pet diagnoses parvo or distemper on your property, even if it has recovered, or if you live somewhere such as an apartment where you can only exercise your dog in a common area to prevent exposing the new puppy.

Parvo virus can stay in the soil for up to two years and is transmitted from contact with contaminated feces or soil. Puppies need up to 4 vaccines spaced 2-4 weeks apart and unvaccinated adults need 2 vaccines spaced 2-4 weeks apart. 

Distemper comes from wildlife and can be passed from food bowls, water sources, and from animal to animal by coughing or saliva. Puppies need up to 4 vaccines spaced 2-4 weeks apart and unvaccinated adults need 2 vaccines spaced 2-4 weeks apart. 

Rabies comes from infected pets and wildlife and is passes through bites, scratches, and saliva. Puppies older than 14 weeks and adults need 1 vaccines every 1-3 years and it take 21 days to be effective.
Adoption Policies
Each adopter must agree to the following things when adopting a BTTR beagle.
Adopters of unaltered puppies, heartworm positive dogs, and dogs needing additional medical care through BTTR must be willing to bring the animal to BTTR's facility or to a vet chosen by BTTR for prearranged appointments, medication pickups, and non-emergency related care. BTTR will notify you of any outstanding medical care needed prior to adoption.

Adopters must be at least 18 years of age. All adults in the household must agree to the selection of the chosen beagle: including parents, relatives, roommates, etc. BTTR strongly recommends that all family members meet the dog before adopting the dog.  

Adopters cannot adopt dogs as gifts. Dogs cannot be sold, given away or rehomed to another individual (including family), shelter or rescue. All animals must be returned to BTTR if the adopter can no longer care for them.  

Beagles will be placed with adults to be kept as companion animals, not as guard or hunting dogs. They are to be accepted as family members and must receive proper nourishment, medical care and attention.  

All future veterinary care, including but not limited to vaccinations, city/county licenses, injures, and any genetic/pre-existing conditions are the responsibility of the adopter unless pre-arranged with BTTR.  

All dogs will be neutered or spayed prior to adoption without exception. Any animal not altered prior to pick up will be considered "foster-to-adopt" until after the spay/neuter surgery.  Spay/Neuter is required for ALL dogs adopted from a rescue or shelter under VA and NC Law.

BTTR receives limited information on an animal's history. BTTR makes no guarantees about an animal's age, breed, or temperament. BTTR cannot guarantee the size, looks, or parentage of puppies.  

BTTR offers a trial period for all adoptions. Adopters that return dogs during the trial period (generally 1 week) will receive a full refund.  

Adopters cannot keep dogs on a chain, tether, in a pen or in a shed or garage. Dogs will not be kept in a home where they are allowed to run off-leash except while supervised in a secure fenced in area. Extra care should be taken in homes with a dog door and protecting pets left in a backyard while adopters aren't home.

Adopters must provide adequate food, water, shelter, attention, vaccinations, heartworm prevention, medical care and licensing for the life of the animal. All animals must be cared for humanely according to Virginia Law 3.2-6503

All beagles must wear collars with owner identification tag (phone number) at all times. If your beagle is lost, a tag may be the only way to have him/her returned to you. BTTR will microchip all dogs and will register the microchip in the owner's name. Adopters are responsible for keeping the registered information up-to-date and for any fees associated with updating.