I Found a Beagle What Do I Do Now?
ANIMAL CRUELTY
If you suspect that a dog you have found is a victim of animal cruelty or neglect it is important to report it to animal control in the city the dog is located in. Only animal control can seize dogs, investigate cruelty reports, and get justice for abused and neglected dogs. Be sure you contact the right people, you need animal control/the city or county shelter not a rescue, humane society, or SPCA.
Animal Control Contact Information
For dogs found in Chesapeake, VA Click Here
For dogs found in Norfolk, VA Click Here
For dogs found in Virginia Beach, VA Click Here and here
For  dogs found in Portsmouth, VA click Here
For dogs found in Suffolk, VA click Here
For dogs found in Newport News, click here
For dogs found York County, or Poquoson click here
STRAY DOGS
If you have found a dog running loose it's important to do everything you can to find the dog's owner (if it has one) and get it to a safe place. Even if the dog you found looks neglected don't immediately assume it has been abandoned or neglected.  Since a dog on his own can quickly become skinny and covered in ticks it's hard to tell just by looking at him or her so it's best to treat every dog like he or she has someone looking for them. Skinny dogs or neglected appearing dog could have been missing for a very long time or have been recently adopted from a shelter or rescue and escaped. Here are the basics for helping a found dog find their way home again. At the bottom of this page we have the Virginia Codes regarding the responsibilities a person who has found a stray animal in trying to find its owner (Check it out, code violators could face fines).
Steps for Handling A Stray Dog
When you see a stray dog note the exact address

Capture the dog if safe

If you are unable to capture the dog try to get a photo or make note of the dogs breed, age, gender and any distinguishing characteristics

If you are able to

capture the dog move the dog to a nearby safe and secure area

Check for ID.

Look and see if the dog has a collar, check the collar for a tag, an engraved plate that may be riveted to the collar, or contact info embroidered on the collar. If the dog has a harness check the neck, chest, and back areas.

Contact the owners if able

If the dog has a electronic, GPS, or radio collar DO NOT REMOVE IT. It is against Virginia law to remove a tracking collar from a dog without the owners permission. (See code at bottom). In addition to hunters which use these collars to track dogs while hunting many pet owners now use GPS collars to track house pets in the event that they get lost. Newer slim designs may look similar to anti-bark or electric fence collars. See examples at the bottom of this page.

If the dog doesn't have a collar or the owners do not answer move to the next step

Securing the Dog / Decide if you can hold on to it for a few hours

If the dog is injured, severely underweight, appears neglected, aggressive, or if you are unable to safety keep the dog for a few hours near where it was found call animal control to pick you the dog or take the dog to a vet, or shelter (they might be able to hold on to the dog until the owners or animal control arrives) give them the address where the dog was found and your contact info, the dog is safe and you are done. If the dog is wearing an electronic, GPS, or radio collar it is best to take the dog to animal control.

Animal Control Contact Information

If you are able to hold on to the dog for a few hours you can start looking for the owners
Do NOT take the dog a long distance from where you found it. If you are on vacation or live more than half an hour or so away take the dog to the nearest shelter or vet to where the dog was found. Taking a dog to a shelter, rescue, or your home hours away from where you found it decreases its chances of ever finding its way home.

Alert People Be aware of SCAM calls/texts, anyone asking for a google verification code is a scam.

Flyers. If the dog doesn't have a collar or doesn't have tag take a photo of the dog so you can put up flyers near where the dog was found or send one to a shelter or vet clinic later on. When you make a flyer for outdoor use keep it basic make the text bold and easy to read and if possible put it on bright colored paper. Leave one identifying detail off the flyer (make sure you can't see it in the picture) to help make sure the owners are who they say they are. Put up flyers on street corners and around a one mile circle from where the dog was found, this is the fastest way to find the dog's owner in the city (See Example Flyer Below).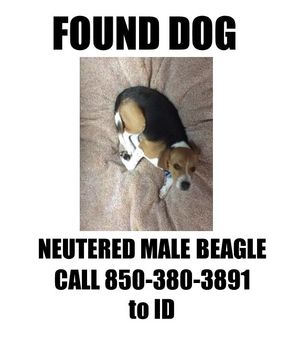 Microchip. If you're in a rural area or no one has come looking for the dog about an hour after you found the dog take the dog to a vet clinic or animal shelter to be scanned for a microchip (an invisible ID implanted under the skin). You cannot see or feel a microchip.

If the dog has a microchip the shelter or clinic will try and contact the owners if the dog is not microchipped proceed to the next step 

Emergency Vets are open 24/7 there is always a vet open to scan the dog

Post the Dog Online: There are numerous resources online for reuniting lost and found pets. PawBoost.com Nextdoor, and several Facebook Groups. For Hampton Roads "Lost & Found Pets- Hampton Roads, VA" for Upper Peninsula Lost and Found Pets-Williamsburg... All of Virginia Virginia Lost and Found Pets and for North East North Carolina Lost and Found Animals in Elizabeth City....  Nexdoor is a great option for dogs found near your home. Your local shelter may be able to provide you with some additional resources in your local area. Dogs can travel several miles so make sure you follow all the above steps to make sure you give the dog you found every chance of getting back home. If the dog was not found in your home city be sure to use resources for where the dog was found not where you live. The more places you post the dog the higher the chances it will get home. Here is a sample post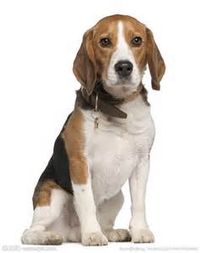 (Include a few photos of the dog)
Tricolor (tan, black, and white) Male beagle found on January 1st off Centerville Turnpike, Chesapeake, VA 23322
(include dogs color, gender, breed, date found, street, city, state, and zip found)
He is wearing a brown collar and is not microchipped. We have him contained in our yard and will be taking him to animal control on Monday if not claimed. We have also posted him on Nextdoor.
(include if the dog has a collar or microchip, is the dog contained, and if you cannot hold on to the dog where you will be taking it. List where else you have posted the dog).
If you know whose dog this is please call us at xxx-xxx-xxx
(you can also use email or facebook messenger but be sure to check them several times a day)
If you take the dog to a shelter or give it to another person, be sure to write down the contact info and update the post. Once the dog is reclaimed update the post.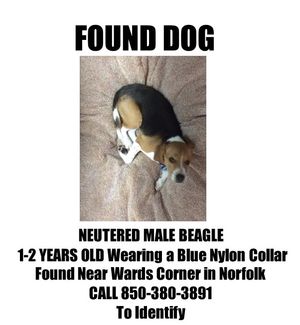 . 
What to Do if Someone Calls:

If you get very lucky the owner of the dog you found will turn up within just a few minutes and will be thrilled that you found their lost pup. Or they may call after a few days having seen one of your flyers, online posts, or having called the shelter. The most important thing is that if the person IS the dog's owner you return the dog, and if the person ISN't the dog's owner and is up to some scheme that you prevent them from harming the dog. How you do this is easy. When you talk to them on the phone request that they give an identifying marks, what color collar they were wearing etc also ask them what the dog's name is. Ask them to bring proof of ownership, vet record, photos of them and the dog etc. Meet with them in a well lite public place and never go alone. While you wait call the dog by the name given to you, see if the dog responds. If the person doesn't have any of the documents you requested, no photos etc, tell them you aren't comfortable doing the exchange and ask to meet again at a shelter when they can bring proof of owner ship. If the person is the dogs real owner they should be willing to meet up again, if they aren't they are probably a scammer. Any calls or emails asking for a Google verification code are a SCAM. See the articles below about pet flippers 

What to Do if No One Calls

:

after the stray hold period is up you can go about finding the dog a new home. Don't feel obligated to keep a dog you find. Only keep the dog if the dog is a good fit for your family and you were planning on getting another dog. BTTR gets a large number of dogs from people who kept strays and it didn't work out.
What's Required By Law:

Virginia Law (3.2-6551) states that anyone who finds a stray animal must do the following things as "reasonable means" to locate the animal's owners. Failure to do these things can result in fines or possible misdemeanor charges. All code numbers are hyperlinks to the full list of Virginia Laws

Any individual who finds a companion animal and (i) provides care or safekeeping or (ii) retains the companion animal in such a manner as to control it's activities shall within 48 hours:

 Make a reasonable attempt to notify the owner of the companion animal if the owner can be ascertained from any tag, license, collar, tattoo, or other form of identification or markings or if the owner of the animal is otherwise known to the individual; and

Notify the public animal shelter that serves the locality where the companion animal was found and provide to the shelter contact information, including at least a name and a contact telephone number, a description of the animal, including information from any tag, license, collar, tattoo, or other identification* or markings, and the location where the companion animal was found.

*Other forms of identification include microchips! Be sure to have the found animal scanned for a microchip, almost any vet clinic, or shelter can do this for you for FREE, and some emergency vets are open 24 hours a day.


 

 If an individual finds a companion animal and (i) provides care or safekeeping or (ii) retains the companion animal in such a manner as to control its activities, the individual shall comply with the provisions of § 3.2-6503.
Code 18.2-97.1 states "Any person who removes from a dog an electronic or radio transmitting collar without the permission of the owner of the dog with the intent to prevent or hinder the owner from locating the dog, is guilty of a Class 1 misdemeanor"
Examples of GPS/Radio/Transmitting Collars